I had a pretty good weekend, but as always it seems to go by way too fast! I had a girls night out on Friday to see Alice In Wonderland with S and C and lil J. I was not really expecting very much since I HATED Charlie and the Chocolate Factory. I LOVE old school Tim Burton (Edward Scissorhands and The Nightmare Before Christmas) but some of his new stuff is just weird and creepy. The movie was OK and got me thinking about Halloween costumes (yes- I know its only April, haha)... I would look cute as Alice or maybe the white queen? So anyway, we were supposed to get dinner and then head back to the theatre to see How To Train Your Dragon (which I had been dying to see- it looks SO CUTE!) Well, C and S got into a fight while we were waiting for dinner and S stormed out of the restaurant. It was pretty awkward for me and I did not want to take sides. I could see where each one was coming from but I think they both overreacted! C and I stayed for dinner and then felt sick after eating our body weight in queso. We ended up just watching One Hour Photo at her place (which was SUPER creepy!)
On Saturday morning C and I went to Twice As Nice to sell some of our old clothes. I always enjoy shopping with her! She is super stylish and is never afraid to tell me when something is hideous. I traded some of my clothes for a couple pairs of shorts and a shirt. It is like shopping for free- I love that! Plus C had some stuff she was just going to get rid of so she gave it to me. Then we went to Gracia's for some delicious pollo funditio and bean dip. Us AZ gals love our Mexican food! Dave came over for a little while and helped my dad paint one of his projects, but had to get to bed early because he had work early the next morning.
Sunday evening after Dave got out of work I met up with him and some of his work friends at Sandbar. It was fun and everyone was really nice, although they were WAY older than us (like in their 50s) Dave is a really friendly, nice guy so it is no surprise to me that he gets along with just about everyone despite the huge age gap!
I saw this fun questionnaire on Taylor's blog and thought I would copy it and repost it today:
Who is your man?
David L
How long have you been together?
In August it will be three years!
How long did you date?
Two and a half years and counting!
How old is your man?
24
Who eats more?
Dave eats huge meals (I call it eating like a snake) but I am a big snacker and eat more often
Who said "I love you" first?
He said it to me on his 23rd birthday.
Who is taller?
Dave is taller than me and I LOVE our height ratio!
Who sings better?
We both love to sing, but neither one is exactly the next American Idol!
Who is smarter?
I am more book smart, but he is really smart too.
Whose temper is worse?
Umm, we both have our moments! I would say me, but he has some road rage that is pretty crazy!
Who does the laundry?
We each do our own laundry since we don't live together, but I like doing laundry so I would volunteer for that task.
Who takes out the garbage?
I HATE doing this so it would DEFINITELY be Dave's job!
Who sleeps on the right side of the bed?
We always vie for the position away from the wall, but eventually when we have a bigger bedroom we will probably have our set sides of the bed.
Who pays the bills?
Again, we still do our own thing, but I am thinking that I would totally trust him to take care of this stuff. I always thought I would have to do it myself, but Dave is so good with these things that I know he would do a great job with it.
Who is better with the computer?
I would say me, but neither one of us is a programming genius. I would love to take some classes in the future and learn different programs (especially photoshop!)
Who mows the lawn?
I never have and never will!
Who cooks dinner?
Dave is such a good cook! I always pictured me doing all the cooking as a wife but with Dave I can easily see us sharing that responsibility evenly. This is another area that I would love to take classes and learn to really master some dishes.
Who drives when you are together?
I HATE driving, so usually Dave. I wish we had sweet public transit like NYC and then I would just take that and walk everywhere.
Who pays when you go out?
He pays for most things but I pay for things too.
Who is most stubborn?
We both can be stubborn, but we are both working on it and trying to be more patient and understanding with each other!
Who is the first to admit when they are wrong?
We are both good about apologizing.
Whose parents do you see the most?
Mine and I think that is how it will always be. I am very close to my family and Dave's family lives really far away!
Who asked who out?
Dave asked me out
Who wears the pants in the family?
We are both alpha dogs fighting over the same food dish! Haha. Seriously though, I don't think either one completely wears the pants. We are truly partners.
Now on to another fun installment of Top 2 Tuesdays with Taylor: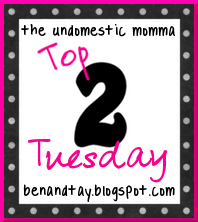 This week she is asking our top 2 beauty secrets. For me, taming the little frizzies that can get really crazy after blow drying is a problem. I have super thick wavy hair so when I blow dry it straight it can get really poofy and frizzy. I love my Biosilk Therapy and John Frieda Frizz Ease Secret Weapon
I also would have to say that I could not live without my
Retin-A Micro
. It is a
RX only
topical treatment for pimples, but it is so gentle and doesn't leave me with a peeling face. It is supposed to be good for wrinkles too!
Well, I am excited to see what everyone else posts for their beauty secrets and I am dying to try the Beer hair rinsing trick from Taylor!