I hope everyone had a great
Easter
holiday! I know I did! I ate
wayyy
too much and there are still tons of leftovers calling to me from the fridge! Yikes! I better hit the gym this weekend!
This week on Top 2 Tuesday the topic is top 2 magazines. I have to be honest... I think magazines may be going the way of the dinosaur. Most of the things that I used to like to read in a magazine I can now find on the Internet without cost of buying a magazine not to mention the paper that is saved! I do still love to flip through the glossy pages at the Dr's office, or in line at the grocery store and occasionally I will buy one for the beach or the plane if I am traveling.
I used to have a subscription to O magazine and I really loved it. The articles were almost always interesting and thought provoking.
I also love Martha Stewart Living! The images are just beautiful and the home decor and recipes are things that I would actually want to do in my own home.
Head on over and play along with Taylor at the Undomestic Momma!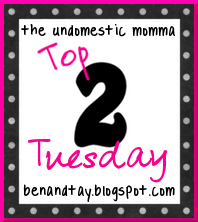 ~Katie