In honor of Thoughtless Thursdays I am going to share my first blog award! I have to say thanks to Dayna at
Buggin' Out
for this awesome award
!(*She actually gave me this award for my other blog, KD Creations, but I thought I would re-post it here and give it away to another five people!*)
Dayna is so creative and talented! I am always blown away by her layouts! I especially love her layouts of her wedding and her gorgeous baby girl! Plus she is a Wisco girl so you know she's awesome! Here are the rules for this award: add a link and a note about the person who gave you this award and then pass this award on to 5 people you recently found and love. You also have to share 7 things about yourself. Easy-peasy lemon squeezy!
Here are some of the blogs that I really love!
Now for a little bit about me!
1. I graduated from University of Arizona with my doctorate in pharmacy (Pharm. D.) last year. I only made people call me Dr. Katie during the week of graduation ( : It took me six years but I had a lot fun and it was totally worth it.
2. I love animals! I love all animals and I love going to zoos and aquariums. I have the sweetest yorkie who is the most loyal and smart little guy. Here he is taking his medicine after a foot injury:
3. I love to travel! My favorite places to go are Maine, California, and anywhere with a beautiful beach. Living in AZ, Las Vegas is the perfect weekend trip for me. Here is a pic of David and me from one of our many Vegas trips:
4. I love to ski! My dad taught me how to ski when I was a little girl and I have been going every winter ever since!
5. I recently got into archery! My bf gave me a bow a few years ago and has been teaching me ever since. I love picking up new hobbies.
6. I have the most wonderful younger brother. He is smart, funny and always there for me.
7. I am a TV junkie! I love my DVR- speeding through commercials is the best. My favorites range from the high-brow, intellectually stimulating shows like Frontline, Independent Lens, Nova (basically anything on PBS!) to the guilty pleasures like 16 and Pregnant and Teen Mom. I love anything that can make me laugh and I also love medical/crime shows (House, Bones, NCIS.)
Well, those are just a few things about me. Thanks for letting me share them!
Thanks again Dayna!
To play along with Thoughtless Thursday head on over to Katie F's: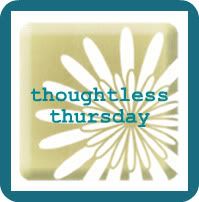 I am also playing along at Keeping Up With Kelly's Top Three Thursday. This week is favorite things about Easter. I would have to say my three favorite things about Easter are a
beautiful Easter sermon at church
,
delicious ham dinner with my family
, and the
post-Easter candy sales at the grocery store
! To play along head on over to Kelly's: