Hooray for Friday! I am looking forward to this weekend! I have a poolside luau on Saturday for my friend's little girl's birthday and some quality time planned with my favorite people! Today I am playing along with
Five Question Friday
1. Did you pass your driver's test on the first try?
Yup. I like to think of myself as a pretty good driver (although I do get labeled as a granny by my friends... its best to be safe, right?! Plus I have to protect my lil pony!)
2. What is your most embarrassing moment?
The one that comes to mind is from my freshman year of college. I was feeling really sick one morning, but I had to go to class. My English class had really strict attendance rules and I had already missed a couple classes... Obviously at that point I was wishing I hadn't wasted them on things like sleeping in and going out to breakfast with friends, LOL. I went to class and felt awful, but at least I was in the seat. About 10 min before class was over I started sweating and my stomach was churning and I knew I was going to be sick. I ran out of class, but I didn't make it to the bathroom! I threw up all down the stairs and immediately afterwards classes let out and everyone was staring at me and trying to avoid stepping in vomit! I really didn't know what to do! I didn't feel right just walking away and I felt so sick I could barely move! A janitor came by and helped me and got me to campus health too. I ended up having gastroenteritis and it was the sickest I have ever been in my life!
3. What TV show would you like to be on-Oprah, Biggest Loser, or What Not To Wear?
Ooo. That's a tough one. It depends on what the Oprah show topic is... If its one of her give away shows then definitely sign me up!!! If its not the give away show, then I would go with What Not To Wear (although the haircut always scares me!)
4. Would you ever get plastic surgery and what kind?
I probably never would. The idea of elective surgery scares me into accepting myself- haha. I would consider getting Botox. Has anyone done this? Again I am a big scardy cat, but it would be nice to delay wrinkles!
5. What are your favorite jeans to wear?
I am obsessed with Sevens. Most of my jeans are Sevens now and I just love the way they fit! I also love Citizens and Joes.
Fun questions! If you wanna play along and check out everyones answers check out My Little Life: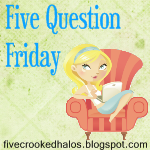 I also want to play along with Friday Favorites from A Girl in Pearls. This week's topic is favorite comedy TV.
I have a TON of comedy shows recorded on my DVR and its hard for me to pick a single favorite. Even though its been off the air for years I still laugh when I watch Friends! Its one of the few shows I own on DVD. I also still love watching re-runs of Sex and The City, King of Queens, The Simpsons, and Scrubs. I guess my favorite show that's still filming would be a tie between 3o Rock, The Office, and Desperate Housewives.

This is for Funny Fridays at Keeping Up With Kelly & Co. This picture just cracks me up. What a naughty lil thing!
I also tried my hand at making a blog header and buttons. Let me know what you think! Happy Friday and hope your weekend rocks your socks off!
~Katie