I know how blessed I am, but lately I feel like I have been complaining a lot! I know life is never going to be perfect and I need to start focusing on what is right in my life instead of what's wrong.
This is a great quote about how counting your blessings can make you happier and healthier from Time magazine:
"At the University of California at Riverside, psychologist Sonja Lyubomirsky is using grant money from the National Institutes of Health to study different kinds of happiness boosters. One is the gratitude journal--a diary in which subjects write down things for which they are thankful. She has found that taking the time to conscientiously count their blessings once a week significantly increased subjects' overall satisfaction with life over a period of six weeks, whereas a control group that did not keep journals had no such gain.
Gratitude exercises can do more than lift one's mood. At the University of California at Davis, psychologist Robert Emmons found they improve physical health, raise energy levels and, for patients with neuromuscular disease, relieve pain and fatigue. "The ones who benefited most tended to elaborate more and have a wider span of things they're grateful for," he notes."
Read more:
@Time.com
I thought it was perfect for
Thankful Thursday Five over at Mannland
and I am really going to try to come up with a great list every week!
1. We finally got our air conditioning unit fixed. It is starting to get hot here in AZ and it was starting to get pretty miserable without it!
2. Going on a long walk with my dad. He is trying to lose a few pounds and we went on a long walk this week together. It was really nice spending some time together just the two of us and I think it was good motivation for him to start getting active.
3. Having a great doctor. I had a little bit of a health scare and had to have some biopsies taken this week, but my doctor is really nice and definitely knows what to say to make me feel better about everything.
4. Great friends. I am looking forward to a girls only weekend! My bff is dog siting for her brother and I am going to spend the weekend hanging out with her at his house. I am baby sitting Sunday for my other good friend, and I am so happy to be able to help her out when she needs. It feels great to have a few really good friends in my life right now!
5. An amazing day trip to Fossil Creek with Dave yesterday. I had never been and it was so beautiful! I love that we had the time off to go on a weekday and it wasn't crowded. We also found this amazing mom and pop cafe in Strawberry, AZ for some ribs and pie- YUM! He is my best friend and we had a great day together.
For
Thoughtless Thursday
and
Shoot Me
this week, I will share our pictures from Fossil Creek yesterday. I couldn't go in the water because I had just had the biopsies taken yesterday, but it was still a lot of fun and I am hoping we can go back soon with some of our friends!
We even saw a deer on the way home! It was a great trip and seeing all that natural beauty and being with my best friend made me realize how blessed I truly am!
To play along head on over and link up! Happy Thursday Everyone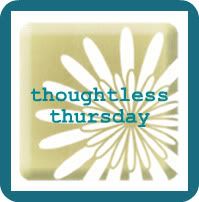 alt="Photobucket" width="125" height="125" />